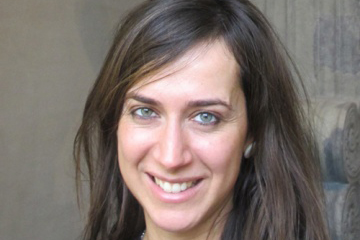 Racial equity and data science
Fotini Christia is the Ford International Professor in the Social Sciences in the MIT Department of Political Science, Associate Director of IDSS, and Director of the Sociotechnical Systems Research Center (SSRC). Her research interests include issues of conflict and cooperation in the Muslim world, and she has conducted fieldwork in Afghanistan, Bosnia, Iran, the Palestinian Territories, Syria, and Yemen. She has co-organized the IDSS Research Initiative on Combatting Systemic Racism (ICSR), which works to bridge the social sciences, data science, and computation by bringing researchers from these disciplines together to address systemic racism across housing, healthcare, policing, education, employment, and other sectors of society.
What is the IDSS/ICSR approach to systemic racism research?
The Research Initiative on Combatting Systemic Racism (ICSR) aims to seed and coordinate cross-disciplinary research to identify and overcome racially discriminatory processes and outcomes across a range of American institutions and policy domains.
Building off the extensive social science literature on systemic racism, the focus of this research initiative is to use big data to develop and harness computational tools that can help effect structural and normative change towards racial equity.
The initiative aims to create a visible presence at MIT for cutting-edge computational research with a racial equity lens, across societal domains that will attract and train students and scholars.
The steering committee for this research initiative is comprised of under-represented minority faculty members from across MIT's five schools and the Schwarzman College of Computing. Members will serve as close advisers to the initiative as well as share the findings of our work beyond MIT's campus. MIT Chancellor Melissa Nobles heads this committee.
What role can data science play in helping to effect change towards racial equity?
Existing work has shown racial discrimination in the job market, in the criminal justice system, as well as in education, healthcare, and access to housing, among other places. It has also underlined how algorithms could further entrench such bias — be it in training data or in the people who build them. Data science tools can not only help identify but also contribute to proposing fixes on racially inequitable outcomes that result from implicit or explicit biases in governing institutional practices in the public and private sector, and more recently from the use of AI and algorithmic methods in decision-making.
To that effect, this initiative will produce research that explores and collects the relevant big data across domains, while paying attention to the ways such data are collected, and focus on improving and developing data-driven computational tools to address racial disparities in structures and institutions that have reproduced racially discriminatory outcomes in American society.
The strong correlation between race, class, educational attainment, and various attitudes and behaviors in the American context can make it extremely difficult to rule out the influence of confounding factors. Thus, a key motivation for our research initiative is to highlight the importance of causal analysis using computational methods, and focus on understanding the opportunities of big data and algorithmic decision-making to address racial inequities and promote racial justice – beyond debiasing algorithms. The intent is to also codify methodologies on equity-informed research practices and produce tools that are clear on the quantifiable expected social costs and benefits, as well as on the downstream effects on systemic racism more broadly.
What are some ways that the ICSR might conduct or follow-up on research seeking real world impact or policy change?
This type of research has ethical and societal considerations at its core, especially as they pertain to historically disadvantaged groups in the US, and will be coordinated with and communicated to local stakeholders to drive relevant policy decisions. This Initiative intends to establish connections to URM researchers and students at underrepresented universities and to directly collaborate with them on these research efforts. To that effect, we are leveraging existing programs such as the MIT Summer Research Program (MSRP).
To ensure that our research targets the right problems bringing a racial equity lens with an interest to effect policy change, we will also connect with community organizations in minority neighborhoods who often bear the brunt of the direct and indirect effects of systemic racism, as well as with local government offices that work to address inequity in service provision in these communities. Our intent is to directly engage IDSS students with these organizations to help develop and test algorithmic tools for racial equity.
© MIT Institute for Data, Systems, and Society
|
77 Massachusetts Avenue
|
Cambridge, MA 02139-4307
|
617-253-1764
|
Accessibility