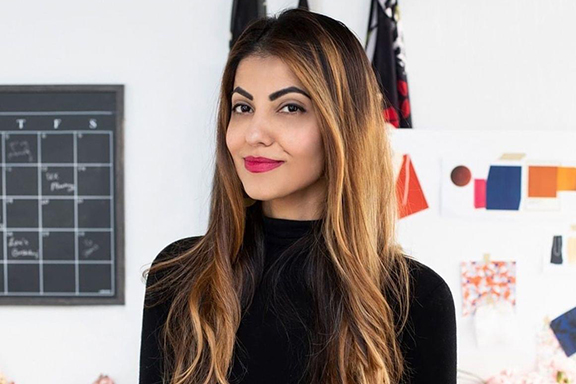 One League joins IDSS Alliance
Pictured: Umaimah Mendhro, One League Founder and President
The newly-launched One League, a global education institution connecting aspiring learners to best-in-class education and opportunity, has teamed up with IDSS to offer the MicroMasters® in Statistics and Data Science with additional curricular support and financial assistance.
One League offers an Ivy League quality graduate-level education, via globally accessible live, synchronous online classes. One League fellows are championed by the organization's extensive coalition of industry executives and leaders and receive guidance, support, and access to opportunities to seek venture funding to propel world-changing ideas.
One League's inaugural class of 60 fellows has received a 100% tuition-free scholarship covering all expenses of the program, as well as a monthly technology access stipend. The fellows represent over 30 countries including Afghanistan, Ghana, Iraq, Kenya, Kyrgyzstan, Lebanon, Pakistan, Uganda, and the United States. The cohort includes a Forbes 30 Under 30 Awardee, a Presidential Award Winner, a Human Rights Fellow, a Global Prize Winner to Combat Energy Poverty, and a Top 100 Women in Technology Awardee. Fellows are working on audacious projects such as realizing energy equity across Africa, creating agents of change in Southeast Asia, and building technology incubators in the Middle East. The class includes survivors of war, first generation college graduates, refugees, ethnic and cultural minorities, and sole breadwinners for their families living under the poverty line.
One League is founded by Umaimah Mendhro, an accomplished Silicon Valley entrepreneur and Harvard Business School alum. Mendhro grew up in rural Pakistan and lived in exile in Saudi Arabia, with limited access to formal education for much of her life. Mendhro went on to attend two Ivy League institutions, Cornell University and Harvard Business School, where she was amongst the top 5% in her graduating class. She applied her education to build a multi-million-dollar e-commerce brand, VIDA.
"Our mission is to democratize access to privilege and opportunity. One League's Inaugural Class has the ambition, grit, and potential to become future leaders in their countries, build economic engines in their regions, and ultimately help raise nations out of poverty, if only given a seat at the table" said Umaimah Mendhro, Founder and President of One League. "Our inaugural class represents the millions of gifted individuals who acutely experience the vast global challenges our world faces today. They each have the empathy and capability to build the critical solutions our world demands, given the opportunity."
"We're thrilled One League joined the MIT IDSS Alliance to expand our joint mission to provide top-notch online learning with hands-on group interaction. We strongly share One League's commitment to providing high-quality education regardless of financial circumstances," said IDSS professor Devavrat Shah, Faculty Director of the MicroMasters® program in Statistics and Data Science.
One League has also teamed up with Harvard Business Publishing and Stanford Online to offer additional courses in business and entrepreneurship. See One League's full launch announcement and learn more about One League.
© MIT Institute for Data, Systems, and Society
|
77 Massachusetts Avenue
|
Cambridge, MA 02139-4307
|
617-253-1764
|
Accessibility