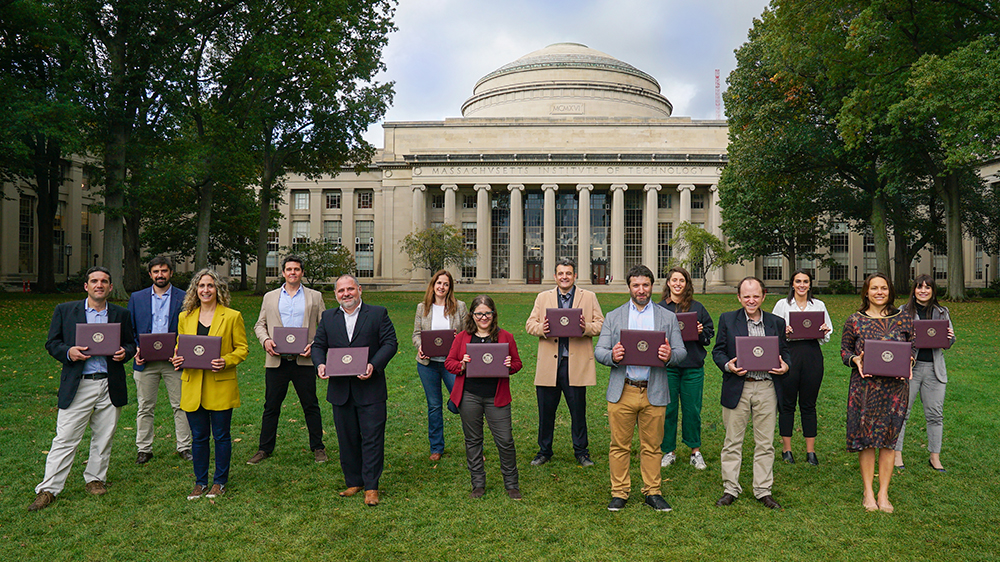 MicroMasters learners from UTEC Uruguay visit MIT
The partnership between IDSS and UTEC Uruguay supports graduate students enrolled in the UTEC Program in Data Science, including tailored support for the IDSS-created MicroMasters Program in Statistics and Data Science. In October of 2022, learners from UTEC visited the MIT campus to celebrate their completion of the program.
The UTEC Program in Data Science is a blended learning program that builds upon the MicroMasters Program in Data Science and Statistics. After completing four courses and a capstone exam, successful students transition to the subsequent residential master's program at UTEC. UTEC is an MITx global pathway school, one of many worldwide offering credit toward the completion of a graduate degree to credential holders of the MicroMasters program.
"We are the first generation to access this training in Uruguay, which makes us pioneers in what is also a new field itself," said María Eugenia Pastor, a UTEC learner who works for a global fintech company. "When you say you have a MicroMasters from MIT, people say 'Wow.'"
There are now 78 MicroMasters credential holders from UTEC, 14 of whom were able to visit MIT in the fall. They met with IDSS faculty and students, and the IDSS MicroMasters team, led by EECS professor Devavrat Shah. "By no means is this a small feat," he told them, praising their commitment to the rigorous program.
UTEC learners were given a guided tour of campus and the MIT Museum, and took time to see sights in the Boston / Cambridge area. They were also presented with printed and covered copies of their MicroMasters credential.
Hear from MicroMasters credential holders from UTEC Uruguay:
© MIT Institute for Data, Systems, and Society
|
77 Massachusetts Avenue
|
Cambridge, MA 02139-4307
|
617-253-1764
|
Accessibility