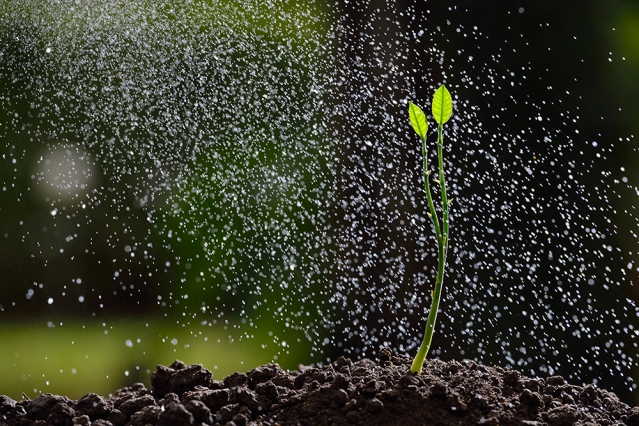 Caroline Uhler awarded J-WAFS seed grant for research on climate impacts on agriculture
The Abdul Latif Jameel World Water and Food Security Lab (J-WAFS) at MIT announced the award of over $1.3 million in research funding through its seed grant program, now in its fourth year. These grants, which are available to the MIT community, are the cornerstone of MIT's Institute-wide effort to catalyze solutions-oriented research in water and food systems that target the safety and resilience of the world's vital resources. One of those grants was awarded to a project co-led by IDSS core faculty and assistant professor of electrical engineering and computer science Caroline Uhler.
Climate change is bringing temperature and precipitation changes that will increasingly stress the crops our global food system depends on, and these changes will affect regions of the world differently. Breeding plants for increased resilience to stressors such as drought is one solution, but traditional breeding approaches can be extremely slow. In part, this slowness results from the complexity of plants' response to environmental stress. Uhler and her partner David Des Marais, assistant professor in civil and environmental engineering, want to better understand this complexity in order to improve future practices to breed plants for stress tolerance. By combining Des Marais' expertise in plant-environment interaction and sustainable agriculture with Uhler's statistical approaches to studying networks, the team will develop new analytical tools to understand the structure and dynamics of the gene regulatory networks that plants use to perceive — and respond to — changes in the environment.
Dara Entekhabi, the Bacardi and Stockholm Water Foundations Professor in the departments of Civil and Environmental Engineering and Earth, Atmospheric and Planetary Sciences, is taking another approach to understanding the impacts of climate on agricultural production. The project, in collaboration with IDSS doctoral candidate Sarah Fletcher, is focused on Sub-Saharan Africa. This region is experiencing very high population growth, and with its largely rain-fed agriculture is particularly vulnerable to anticipated temperature and precipitation changes brought about by climate change. The MIT research team is leading an academic-industry partnership that seeks to understand how crop production in the region responds to year-to-year variation in precipitation in order to assess the future of food security in Africa. They will collaborate with Radiant Earth, a startup that uses a geospatial imagery technology platform to capture and understand the impact of social challenges in the developing world, to develop a better understanding of the impact of climate on food security in Sub-Saharan Africa.
© MIT Institute for Data, Systems, and Society
|
77 Massachusetts Avenue
|
Cambridge, MA 02139-4307
|
617-253-1764
|
Accessibility