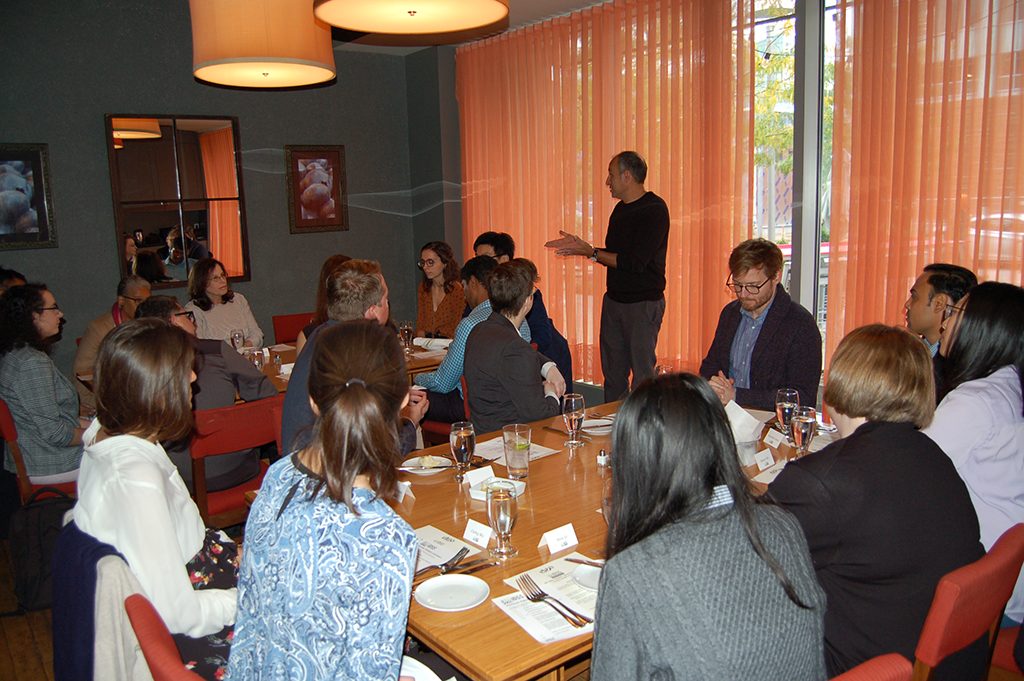 Building community in the Hammer Society of Fellows
On October 10, IDSS held the second annual Michael Hammer Society of Fellows luncheon, an event that brought together first and second year fellows, grad students and postdocs, IDSS faculty and staff, and Phyllis Hammer, whose gift in memory of her late husband established the Fellowship.
The Hammer lunch is one of several events providing fellows with an opportunity to build community and learn more about each other's work. In addition to introductions and casual conversation, two fellows gave longer presentations on their research. Manon Revel, a PhD student in Social and Engineering Systems (SES), spoke about the effects of native click-bait advertising on traditional journalism, and Janelle Schlossberger, a postdoctoral fellow, discussed her work at the intersection of networks, macroeconomics, and finance.
The lunch was attended by 6 IDSS faculty advisors, including IDSS director Munther Dahleh, IDSS associate director and SES chair Ali Jadbabaie, and Technology and Policy Program (TPP) director Noelle Selin. They were joined by Saurabh Amin and Cathy Wu (CEE) and Dean Eckles (MIT Sloan). Wu also presented on her research, which focuses on issues in mobility and autonomy, such as integrating self-driving cars into existing urban systems.
In his remarks, Dahleh discussed how the Hammer Fellowship supports exciting interdisciplinary research that addresses societal challenges using both the analytical tools of statistics and information science, and methods from engineering and the social sciences.
IDSS Hammer Fellows are drawn each semester from IDSS postdocs and students in the doctoral program in Social and Engineering Systems.
© MIT Institute for Data, Systems, and Society
|
77 Massachusetts Avenue
|
Cambridge, MA 02139-4307
|
617-253-1764
|
Accessibility