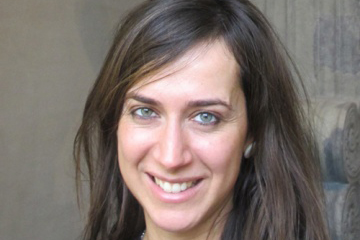 3 questions with Fotini Christia, the new Chair of the Social & Engineering Systems PhD program
Fotini Christia is a professor of political science and faculty member of the Institute for Data, Systems, and Society. Her research interests deal with the political economy of conflict and development in the Muslim world and she has done extensive experimental, survey, and big data research on Afghanistan, Bosnia-Herzegovina, Iraq, and Yemen.
In addition to chairing the Social & Engineering Systems PhD program, she directs the Sociotechnical Systems Research Center (SSRC) within IDSS.
What are some societal challenges you are addressing in your research?
My research examines how individuals, groups, and institutions in embattled societies shape and are shaped by conflict. I am primarily interested in how cooperation emerges in violently contested environments, and what role identity, material incentives, networks, and institutions play in that process. I have used randomized controlled trials and lab-in-the-field experiments to examine the role of development aid interventions in promoting post-conflict reconstruction and reconciliation in different areas of the Muslim world including Afghanistan, Bosnia-Herzegovina, and Iraq. I have also explored the differential effects of such aid interventions on women.
In more recent collaborative work with colleagues and students from IDSS, we have used big networked data out of hard-to-access conflict areas. One project with SES student Paolo Bertolotti and professor Ali Jadbabaie of CEE and IDSS examines the social network effects of drone strikes using Call Detail Records from a major cellphone network in Yemen. Another project with SES student Erin Walk and IDSS postdoctoral fellow Kiran Garimella uses social media data from Twitter and Telegram to capture violence narratives out of northern Syria after the defeat of ISIS.
With the onset of COVID-19 and the inability to do research in the field, I have also turned to social media for subject recruitment. In an ongoing project on the effects of a media campaign against gender-based violence in Egypt, we recruited female participants using Facebook ads and incentivized them to take online surveys on women's empowerment through WhatsApp.
What are the strengths of applying both data science and social science methods to these challenges?
Looking at these big societal challenges through a cross-disciplinary lens allow us to harness diverse methodologies around data to best address shared questions of interest that are of real importance. A rich understanding of the underlying motivation and the micro-dynamics at work is what enables us to theorize the broader picture. Directly informing the work with findings from the social sciences offers us an opportunity to better inform our hypotheses, test our algorithms and research protocols, validate our measurement choices, and contextualize our results.
What is your vision for the Social & Engineering Systems PhD program?
I am delighted to be working with a group of such talented graduate students. My objective is to ensure they take advantage of the holistic and well-rounded curriculum of the SES Program so as to enable them to do cutting edge research that is very much focused on "data for the people." Our SES grads are a group of scholars that take on society's big challenges, ranging from inequality and misinformation, to climate change, economic development, and technology policy. SES student research makes substantive empirical and methodological advances on pressing real-world issues. To that effect, their work is cross-disciplinary research at its best, and their training makes them excellent candidates for a diverse set of academic positions, as well as for jobs in the industry and government.
© MIT Institute for Data, Systems, and Society
|
77 Massachusetts Avenue
|
Cambridge, MA 02139-4307
|
617-253-1764
|
Accessibility